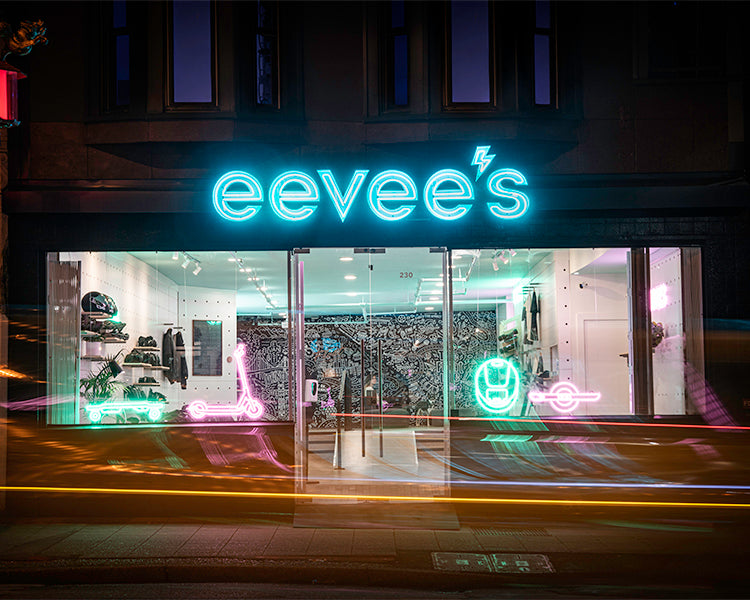 Our Mission Statement
Fusing leisure and transportation to make for a more sustainable future by changing the way people perceive PEVs (personal electric vehicles).
Tested & Curated Products
As avid riders at eevee's, we uniquely curate our product lineup through rigorous personal testing of each device. Recognizing the vast amount of subpar personal electric vehicles in the market, we decided to exclusively offer the crème de la crème. Where other dealers can overwhelm with excessive choices, we simplify your decision-making with a streamlined selection of only the best. You can watch some of our rigorous testing by viewing our YouTube channel.
Watch Now
June 2017
Bradley was traveling around North America living out of a sprinter van while promoting his denim company. Along the way, he discovered the Onewheel at the Outdoor Retailer tradeshow. He test rode one at the show and couldn't get his mind off of the incredibly unique product.
March 2018
Nine months later Bradley finally received his first Onewheel and realized that it exponentially levelled up his road trip. Suddenly he was able to explore each city that he visited. He started meeting the riding community for group rides in all the cities he visited building up his name in the community while launching a Onewheel-centric blog.
March 2019
After being on the road for nearly two years, Bradley settled back into his hometown Vancouver and met his now-wife and future eevee's creative director, Kate. On their first few dates he taught Kate how to ride a Onewheel and the two of them hosted many local group rides. They were destined to be together.
March 2020
Nearly a year later, Bradley and Kate start selling Onewheels and Onewheel accessories out of their apartment while also offering tire and bearing changes.
August 2020
On a group ride, Bradley discovered one of the riders riding an electric unicycle. It really intrigued him and the wheels started turning again. Sure enough, he started spotting more and more EUCs and e-scooters riding in the city and started drafting up a business plan for a PEV store that not only taught people how to ride, but also is deeply engrained in the community.
September 2020
A few days after deciding that Bradley and Kate were going to start a PEV business, Lukas, one of his long-time friends who he serendipitously met at a random camping trip when they were teenagers, gave Bradley a call with exciting news. He had just closed a huge deal at his corporate sales job and was about to come into a nice chunk of money. That's when Bradley pitched Lukas the eevee's idea. Without hesitation Lukas packed up his life in Calgary, moved back to Vancouver and him, Kate, and Bradley started planning.
December 2020
In December 2020, they signed a lease in historic Chinatown in downtown Vancouver, BC as they prepared their Spring 2021 grand opening. The building they leased needed some major renovations and with a boot-strapped budget, they got their sledge hammers and painting gear and start working away.
March 2021
On the first day of Spring 2021 in the midst of the COVID-19 pandemic, they opened their doors and the immediate response blew them away. They sold out of nearly all of their inventory in the first few weeks of opening and had to secure more funding to get the necessary inventory needed to keep up with the incredible demand.
May 2021
Bradley and Lukas release their very first YouTube review video and start building their YouTube channel and product review videos.
eevee's YouTube Channel
December 2022
eevee's has quickly outgrown their Chinatown location and opens a second location in Burnaby, BC which becomes a dedicated 4000 sqft service centre and showroom. The goal: the best customer support and turnaround times in the industry.
Locations
June 2023
eevee's launches a brand new website to provide their online customers with a sales experience replicating what people receive when they walk into the store in person. They redefine product specs like RealRange (real-world tested range), an easy way to compare each product, and action videos of every PEV.
Shop Now